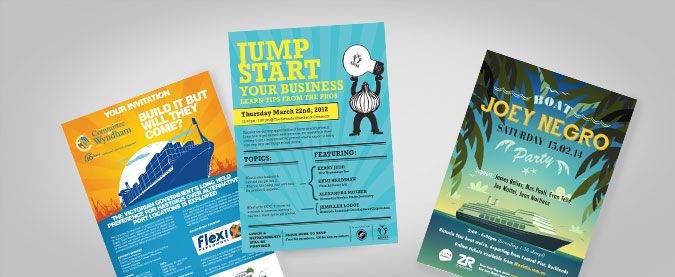 Cheap A5 Flyer Printing Australia
We print A5 flyers at everyday low prices. With quality colour printing, your message will be sharp on a5 flyer prints. At kangaprint.com.au we provide cheap A5 flyer printing services to customers in Brisbane, Perth, Melbourne, Sydney, Gold Coast and all over Australia.
Contact kangaprint.com.au today on 1300 550 680 and ask for a free quote. We are happy to assist you with your custom flyer printing requirements.
Click & select price to proceed
Looking for something extra? (eg. Custom shapes, designs, etc.) Just ask!
Also Available in Other Size:
A5 Flyers Explained
Half the size of the paper that goes into a home printer (technically defined as A4), the A5 size is fantastic for businesses that need to create promotional material. A5 flyer are easily handed out to people passing by and fit nicely on countertops in stores, making them a great choice for marketing efforts.
A5 Flyer Printing - An Effective Approach
Larger than a paperback book cover and smaller than a magazine, the materials produced by A5 flyer printing are often "just right" for personal and business needs. When printing single sided, it's large enough to display a lot of information without cramming content close together.
Printing on both sides works great when using A5 flyers for a promotional campaign. You can dedicate one side to a photo and the other to information. This is great for real estate, as you can show the property in full on one side and relevant showing dates and info on the other.
A5 Flyers Printing - Convenient For All
Many businesses can make great use of A5 flyer printing. Restaurants can show an interior shot of their location on one side, with photos of their dishes, info, and even a coupon on the other side. Organisations can use them to provide information to their audience quickly and affordably, while individuals can utilise them to spread awareness of a community issue.
Whether you are an individual, community organisation or business, the power of an A5 flyer print can benefit you greatly. When you need top quality service at a cheap price call or contact us online. kangaprint.com.au provides excellent service all across Australia!