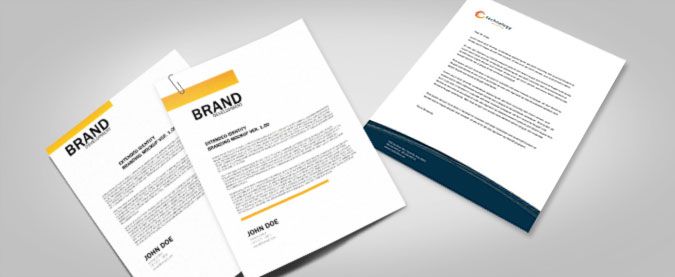 Letterhead Printing
There's no substitute for the personal attention achieved through a hard copy business letter. Company letterheads are is the perfect way to promote your company, add professionalism to your correspondence and communicate with your clients. Use it for anything from cover letters to corporate sales letters.
Call kangaprint.com.au on 1300 550 680 and discuss your letterhead printing requirements with our experts.
Click & select price to proceed
Looking for something extra? (eg. Custom shapes, designs, etc.) Just ask!
Print Letterhead Online
For many businesses, letterheads printing is considered to be a snag. They feel that it is nothing but an additional cost to their business expenditure. But we strongly believe that letterheads have a very important part in the inflection of a particular business in formal means in its networks of associates, patrons and affiliations. With letterheads, you surely find that it compliments all forms of transactions & communication efforts. Actually a letterhead tends to make your letter look more formal and business-allied which is always good for an official testimonial.
Custom Letterhead Printing Services Australia
At kangaprint.com.au we offer great letterhead printing facilities in our company's business printing services and over the year's customers keep coming to us because they know that we provide them the best printing letterhead service in the entire market. We use offset printing for printing volumes of letterheads at a high tempo manner. We also guarantee a very consistent and sharp print that helps shape all the information of letterheads.
While talking about our specialties, we can proudly say that we are the only company out there in the business printing market who knows the key ingredients of letterhead printing
Probably the most essential part of letterhead printing is the logo. It is because the values, core competencies & the company viewpoint are all attached to the logo. And it is this logo that is quickly & easily recognized by consumers and business partners. When people see the logo on your letterhead, they would be able to familiarize themselves with your company and products. We make sure that you get the best value by making a unique logo on your letterhead. Also, we always use 'four colour printing' to give your 'business-letter' more character and to make your logo more recognizable and easily identifiable by clients and patterns.
Another crucial aspect of our letterhead printing service is that we always make sure that you choose the right design for your company that reflects the nature of your business in the right way. Apart from that we also provide online printing services, custom letterhead printing and online printing letterhead services etc.
Buy cheap calendars, flyers, letterheads and notepads online from kangaprint.com.au.
kangaprint.com.au - the experts in custom printed letterheads Melbourne, Sydney, Brisbane, Gold Coast and Australia wide