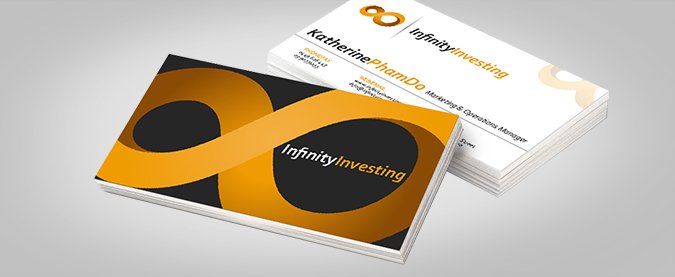 Custom Low-Cost Business Card Designs
Affordable, highly customisable, and uniquely designed to represent your business, the humble business card is possibly the most cost-effective, high-impact marketing tool you'll ever use.
Choose from a range of low-cost standard options, including:
Vertical or horizontal business card design
Small or large card size
Printed on one side or both
Matt or gloss finishing
Or, create something completely custom—including irregular business card shapes—by calling 1300 550 680 to discuss your requirements with our printing experts.
Arranging for cheap, custom-designed business cards online has never been easier. Or faster. One or two colour business cards are printed within a week. Further design customisations may take a little longer depending on your specific requirements. Regardless of your design, with kangaprint.com.au, you'll receive cost-effective quality custom printing delivered anywhere in Australia.
Check out our handy pricing tool below:
Click & select price to proceed
Looking for something extra? (eg. Custom shapes, designs, etc.) Just ask!
Also Available in Other Types:
How to format your business card design for printing:
Follow these handy best-practice artwork guidelines to create a print-ready business card design:
To ensure legibility, avoid using font sizes smaller than 7pt.
If you are working out of vector-based software—such as Adobe Illustrator, InDesign, or Freehand, please convert your text to outlines before generating the final PDF file.
If you are working out of Adobe Photoshop, simply flatten the image.
If you are using MS Publisher for design and layout, ensure all photos, graphics, and fonts are embedded into the file.
Take care when designing a mostly black business card, or choosing a typeface to use on a dark background—a design technique known as 'reversed out' text. The dark ink tends to bleed into lighter areas during the press phase of printing, so avoid selecting 'thin' fonts in these applications. Instead, stick with a 'sans serif' font, like Arial or Helvetica. Sans serif fonts typically don't have extended features and tend to offer more consistent line width in each character.
You can also always contact our Print Help Desk for more handy tips or information.
How to select the right size business card:
Your business card should reflect and encapsulate the personality of your brand or organisation. That said, if you're looking to blend in rather than stand out, there are a range of standard sizes and dimensions:
A standard business card in Australia is 90mm x 55mm. This is an aspect ratio of 1.636.
In the USA, a standard business card is 88.9mm x 50.8mm.
The standard measurement of a European business card is 85mm x 55mm.
Our experienced print professionals can also provide a range of services to help you create something unique, particularly if you do not have access to design resources. We have a wide range of samples on offer to give you a tactile sense of colours, graphics, fonts, and finishes.
How do I make a custom business card to suit my business?
Discuss your options with our experienced print experts, or select from our wide variety of business card finishes:
Gloss laminated finishes create a sleek, water resistant card.
Embossed business cards, with an indented section of the card creating a powerful impression.
Foil finish business cards, creating a luxe aesthetic by including real metal foil in the design.
Die Cut options, creating a unique and charismatic shape for the entire card.
Plastic business cards are durable and dependable, and a fantastic solution for plumbers, locksmiths, cleaning companies, and more.
Spot UV business cards create a premium aesthetic through highlighting key aesthetic aspects of your card's design.
Matt business cards are simple, effective, and highly versatile: they're the go-to choice for a variety of medium to large scale businesses throughout Australia.
Round cornered business cards create a modern impression, perfect for technology companies, IT professionals or consultancy.
Square business cards are a great way to immediately showcase the unique personality or creative offerings of your business.