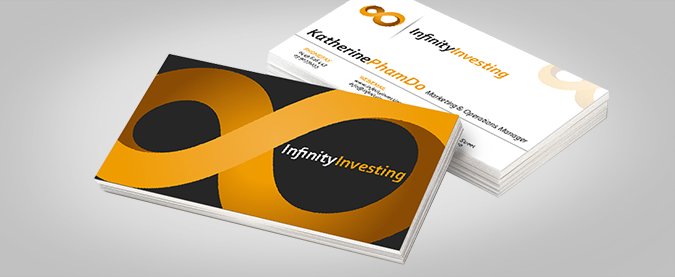 Affordable, portable and accepted worldwide, the humble business card is often said to be the most important marketing tool you'll ever use. Get it right with our range of options - vertical, horizontal, small, large, printed on one side or both, matt or gloss cello...the possibilities are endless!
Finding cheap online print is now easy with Kanga Print. Call us on 1300 550 680 to discuss your business card printing requirements with our experts.
Click & select price to proceed
Looking for something extra? (eg. Custom shapes, designs, etc.) Just ask!
Also Available in Other Types:
Cheap Business Cards
Through modern printing technology and designs that suit all textures, sizes and shapes, business cards have remained as an important tool of marketing in spite of the ever increasing popularity of online marketing. They are used by clients, customers and business associates to make a judgment call on both you and your company's standards.
Business cards are one of the least expensive but effective direct marketing tools. With this in mind, can you really stand to take a chance with the printing standards of yours? Kanga Print makes sure you never have to compromise on quality, through our commitment to printing business cards at an exceptional level and offering affordable prices in doing so.
Print Business Cards across Melbourne, Sydney, Brisbane, and Australia
At Kanga Print, we understand that every business card we print is a long term investment for our future business, because your purchase tells as much about us as it does about you. That's why we offer the most premium quality products possible. Don't just take our word for it though - find out why so many residents throughout Australia trust us every day.
The business cards designed by our professionals portray your company as trustworthy and credible, as a result ensuring you a better response from consumers. Through extensive concept development, market analysis, colour
research and sampling, the professionals at Kanga Print can help you create a distinctive and impressive product that reflects your professionalism and helps you to stand apart from your competitors.
Our designing experts have a wide range of samples to give you an initial idea of colours, graphics, fonts, and more. Whether you've got some ideas for your business card but need some assistance outworking it or you are starting from scratch, our team of professionals will be able to help.
Kanga Print also offers cost effective 'Bulk Run' printing services, which allows you to have your business cards printed at a much cheaper rate. We do this by grouping your order with those of other clients that have some similar features. This method has proven to reduce printing costs significantly without compromising on either the design or quality of your purchase.
View Business Card SizeS & Dimensions.
How quick is our business card printing turnaround time?
One or two colour business cards are printed within a week, but customised orders take some more time. To reduce the delivery period, you may also opt for online printing. The printing cost of premium business cards can be justified by comparing the marketing benefits.
We quote our competitive rates within 24 business hours after receiving your order. If you need any kind of help in deciding the quality, quantity and format you require, feel free to call us.
We also provide other specialist printing services including flyer printing, postcard printing & brochure printing.